December 16, 2015 12:00 pm
What Are Barge Boards?
There has been a resurgence of decorative barge boards in the UK, with designs that range from minimalist and functional to decorative and ornate. Dating back to the 1400's, barge boards are attached to the projecting edge of pitched roofs to protect the ends of the timber from weather damage. They have also historically served as an adornment, with a vast array of designs and shapes.
Here are five historic and colourful examples of barge boards from around the world that just might inspire you.
Golden Barge Boards in Thailand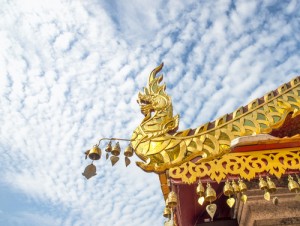 This Buddhist Temple in Thailand boasts some of the world's most intricate barge boards. Crafted in gold, this is an example of ornate craftsmanship that can't be missed. The ends of each barge board culminate into a golden dragon sculpted with immaculate curves and detail. A row of bells are attached to the end of each barge board, to complete the look.
St. Mary's Church, Gloucestershire

St. Mary's Church, located in Painswick, Gloucestershire was built in 1901 with belfry timbers. The barge boards are decorated simply with carved bells. They add character to the building while blending fluidly, without overwhelming the classic design.
Saitta House, Dyker Heights, New York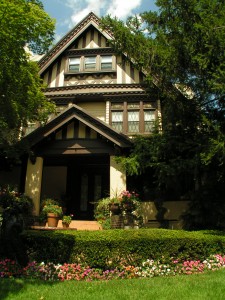 In Dyker Heights, Brooklyn this two and one-half story, Queen Anne Style dwelling was built in 1899 by Italian architect John J. Petit. It is one of the few houses in the Dyker Heights development that retains most of its structural components, including thick ornate barge boards that are worth viewing for their simple, sturdy barge boards with decorative bulbs carved into the beams.
Buddhist Temple in Southeast Thailand
This Buddhist Temple in Southeast Thailand boasts extremely intricate barge boards with scalloped edges that do more to decorate the building's projected timber beams than to actually protect it. In some cases the scallops shift delicately around the extended timber beams; a look that is exotically pleasing and completely original.
Rustic Stone Cottage in Somerset
This idyllic rustic stone cottage in Somerset, England is accented beautifully with ornate wooden barge boards on the gables. The barge boards are scalloped and pointed, with the timber painted a deep forest green to match the mature trees surrounding the structure.

We hoped you've enjoyed this brief glimpse into some of our favourite examples of barge boards around the world. For more information on our own bespoke barge boards, contact Summit Cladding today.

Tags: barge board design, barge board installation London, barge boards, bargeboard design, Bargeboard installation, Bargeboard Installation London, Bargeboards


Categorised in: Bargeboards, Blog

This post was written by Summit Cladding